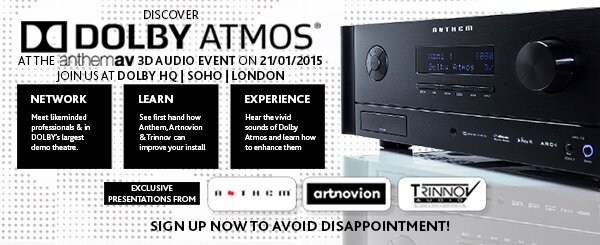 Thursday, 21st January 2016 – 10.00am – Dolby HQ, Soho London
We are running an exclusive event at Dolby HQ launching the new range of Dolby Atmos-enabled Anthem MRX AV Receivers and their new AVM60 Dolby Atmos AV Processor, Trinnov's Altitude32 and also launching Artnovion – Acoustic Treatment.
On arrival you will be greeted with a tea/coffee. After 30 minutes of networking the keynote presentations will begin in Dolby's largest demo theatre, the Ray Dolby Theatre – where you will learn about Dolby Atmos and 3D Audio.
Anthem AV gurus especially imported from Canada will be presenting a keynote speech based around their receivers and also why the Anthem Room Correction (ARC) feature is so important. There will then be demonstrations of Dolby Atmos with the Anthem MRX Amps in the Consumer Theatre (running from approximately 1.30pm until the end of the day).
There will also be a keynote speech from Trinnov's Sales Director presenting their Altitude32 Amplifier – it's UK launch. Finally, there will be a presentation launching Artnovion and why Acoustic Treatments for Rooms are important and can benefit your business.
We hope you can join us at Dolby HQ.
Please , places will be allocated on a first come, first served basis. Note that this is a trade-only event!